Welcome to the PEERS Home Page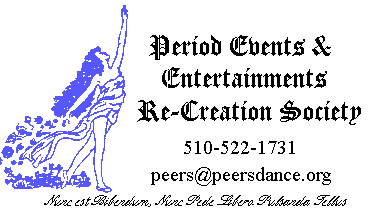 Due to the Pandemic All PEERS Events are Cancelled Until Further Notice



The Period Events & Entertainments Re-Creation Society, Inc., is a Nonprofit Corporation dedicated to remembering, researching, and re-creating the performing arts of the past.

Based in the San Francisco Bay Area, we endeavor to accomplish our noble goals by sponsoring events, giving classes, performing in various living history events, and just generally carrying on. Historic dance, drama, music, literature and costume are all a part of PEERS' activities.

More than anything else, we are dedicated to the idea of entertainment as something for people to do rather than watch.


For an example of what a PEERS event is like, check out this Youtube video of our Charles Dickens Bicentennial Ball.

The main activities of PEERS have traditionally centered around our historical and literary re-creation events. These have covered a wide number of historical periods and have included such diverse events as a Canterbury Tales Feast & Ball, a recreation of Lord Capulet's Ball from Romeo and Juliet, an outdoor Restoration Fete and Ball, an 18th-Century Scarlet Pimpernel Ball, a Mostly Mozart Ball set in the Amadeus universe, a Jane Austen Tea, Fete and Assembly, a Phantom of the Opera Masquerade Ball, a Sherlock Holmes Mystery Party and Ball, an Edwardian Music Hall, a bi-lingual Moulin Rouge Ball, a Tango Tea, a 1920's Speakeasy, a 1930's Mystery Party, a 1941 Evening in Casablanca, a Film Noir Black & White Ball, a variety of Victorian Balls and our famous annual Le Bal des Vampires, a recreation of a 19th century French costume ball. We can also often be found relaxing from the rigors of running events by enjoying ourselves at historic events run by other groups (We refer to this as "assisting" them).


There are photographs of some of PEERS' past events here .


How do you participate in the activities of PEERS? First of all, by coming to our events. You may pay at the door, purchase tickets in advance, or subscribe for a year's worth of events. And, of course, like all nonprofit organizations we are happy to accept donations. Donations may be made by check or via PayPal, and PEERS is also registered with eScrip and Amazon Smile.


PEERS offers weekly dance classes.


If you would like to receive email anouncements about upcoming events you can sign up for the PEERS email announcement list.


Please join us in PEERS' Facebook Group (requires login).


When you attend a PEERS event, you have a great deal of flexibility in how to participate. Many people dress up in appropriate costumes, but many do not. Some people choose to portray particular historical or literary characters; others simply come to enjoy themselves. The choice is yours. PEERS is dedicated to a harassment-free experience for everyone. Our anti-harassment policy can be found here.

Remember the cardinal rule of PEERS: If you're having fun, you're doing it right!