THE ALEXANDER HAMILTON BALL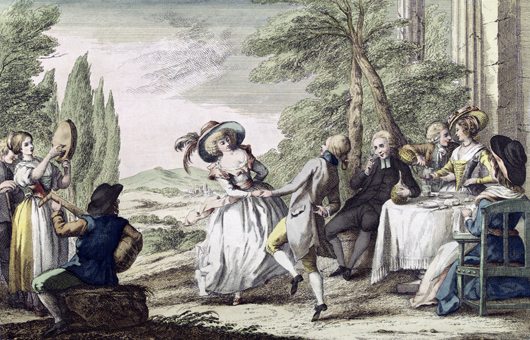 Saturday, July 8, 2017
Alameda Elks Lodge
2255 Santa Clara Ave, Alameda
Doors Open: 6:30 p.m.
Dance Lesson: 7:00 p.m.
Dancing Begins: 8:00 p.m.
Tickets: $20.00 in advance (by July 1)
At the door: $25.00


Advance tickets may be ordered by sending a check or money order to:

PEERS
2144 B Buena Vista Ave
Alameda CA 94501
You may also purchase tickets until July 1 with a credit card using the PayPal system:
---
Join us for an elegant evening in late 18th century America as the guests of Alexander and Elizabeth ("Eliza") Hamilton. Bangers & Mash, one of our new country's finest country dance bands, will play a program of early waltz music and 18th century English and American country dances and cotillions. The grand ballroom of the Alameda Elks Lodge and the Lodge's salon with faux Baroque decor are a perfect setting for our ball's theme
There will be a pre-ball dance workshop at 7 pm to learn some of the evening's dances. If you are new to English country dancing and American Contra Dancing, we strongly recommend the pre-ball workshop, but no partners or dance experience are required; all country and set dances will be taught and called at the ball. During the month of June we will also dedicate PEERS' weekly Sunday afternoon dance classes to the social dances of late 18th century and Federalist America. Our classes are from 2 to 4pm at the Alameda Elks Lodge at 2255 Santa Clara Avenue in Alameda.
Most of the band's music will be historically correct, but we've heard a rumor that Bangers and Mash may also play some dance tunes arranged from a couple of very popular musical plays, also set in late 18th century America.
Late 18th century or Regency/Federalist costume (1776-1804) or modern evening dress is admired but not required. Above all, be certain to wear shoes you can comfortably dance these elegant but lively dances in!
We will have some musical entertainment at intermission and period card games and conversation in the salon. But please keep all political discussion civil and no dueling please!
As usual, we will have a no-host bar and complimentary refreshments. Mrs. Hamilton will gratefully accept your potluck contributions.

Return to List of Events.