A FREE EDWARDIAN PICNIC DANCE IN NEVERLAND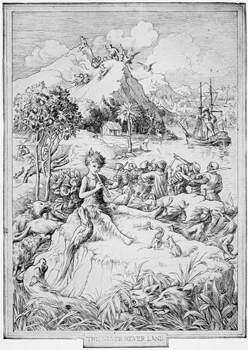 Saturday, August 5 2017
Location: Lincoln Park
1450 High Street, Alameda
(Near the Rose Garden)
Suggested Set-Up Time: 10:00 am (or earlier for the best picnic spots)
Picnic Luncheon begins: 11:00 am
Formal Dancing: 1:00 pm - 4:30 pm
Admission: Free! (Your donations to the band are welcome!)


---
Pack a picnic basket and join us for a lovely Edwardian picnic dance among the roses. Enjoy a day of leisurely picnicking and Victorian/Edwardian dancing to the music of the glorious Bangers & Mash. Admission is FREE - our way of thanking our guests for their loyal support of PEERS.
Our 2017 Picnic Dance is set in the universe of James Barrie's Peter Pan and (well-mannered) children of all ages are welcome! Edwardian costume (1900-1914) is admired but not required. Come dressed as a fashionable Edwardian Londoner - friends of Mr. and Mrs. Darling perhaps? - or come in a fantasy costume inspired by Peter Pan's Neverland: Fairies, mermaids, pirates, the Lost Boys and Girls (this is the feminist version!), etc. are all welcome, but - to be perfectly clear - costumes are admired, not required.
Costumers: Be stunningly fashionable or sensibly casual (Ladies are certainly welcome to wear their "Rational Dress" or cycling costumes!). Picturesque hats and parasols are encouraged. But if you plan to dance, be sure to wear sensible low-heeled shoes, dance sneakers, or boots suitable for outdoor dancing. We should also remind anyone planning to do fantasy costuming that our delightful Alameda summer weather is often cool in August. It's an excellent idea to dress in layers for the picnic and to bring a coat, shawl, or wrap, especially for the morning.
The event is absolutely FREE but donations to our magnificent and hard-working band would be deeply appreciated.
Finally, please observe Lincoln Park's rules: NO smoking, no alcohol, and no skate-boarding (in our area). Dogs are welcome but must be leashed at all times - even Nana! - and children under 12 must be supervised (Remember that unsupervised children can become Lost Boys and Girls and swept off to Neverland!). For their own safety, we also require that children under 12 have adult dance partners!
Peter himself? Don't worry. He's not under 12. He simply chose never to grow up!
To make an advance donation to the band, simply click on the PayPal icon:

Return to List of Events.