THE SCARLET PIMPERNEL BALL: 1792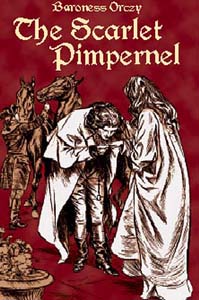 Saturday, September 2, 2017
Alameda Elks Lodge
2255 Santa Clara Ave, Alameda
Doors Open: 6:45 p.m.
Dance Lesson: 7:00 p.m.
Dancing Begins: 8:00 p.m.
Tickets: $20.00 in advance (by August 26)
At the door: $25.00

Advance tickets may be ordered by sending a check or money order to:

PEERS
2144 B Buena Vista Ave
Alameda CA 94501
You may also purchase tickets until August 26 with a credit card using the PayPal system:
---
They seek him here,They seek him there,
Those Frenchies seek him everywhere.
Is he in heaven
Or is he in hell?
That demmed, elusive Pimpernel

Dance the night away at home of the most stylish couple in London - Sir Percy and Lady Blakeney - at an utterly elegant ball in honour of H.R.H. George, the Prince of Wales ("Prinny"). Perhaps we'll finally learn the identity of the mysterious English adventurer who calls himself "The Scarlet Pimpernel," famous for his daring rescues of innocent citizens from the Guillotine. He's a hero to some, a terrorist to the French Revolutionary Tribunal, a fascinating figure to the ladies, and a mystery to everyone.

Who could he be? No spoilers, but if you're a Batman or Zorro fan, you've already guessed the answer!

Bangers & Mash - celebrated for their wonderful arrangements of both English country dance and historical social dance - plays an evening of beautiful early waltzes and dashing 18th century English and French country dances. No partners needed, and all country dances will be taught and called.

For those who would like a brush-up on their country dance footwork and patterns, we'll have a pre-ball dance workshop at 7 pm. Formal dancing and mayhem follow from 8 pm to midnight.

Late 18th century costume, Regency costume, or modern evening dress is admired but not required.





Return to List of Events.